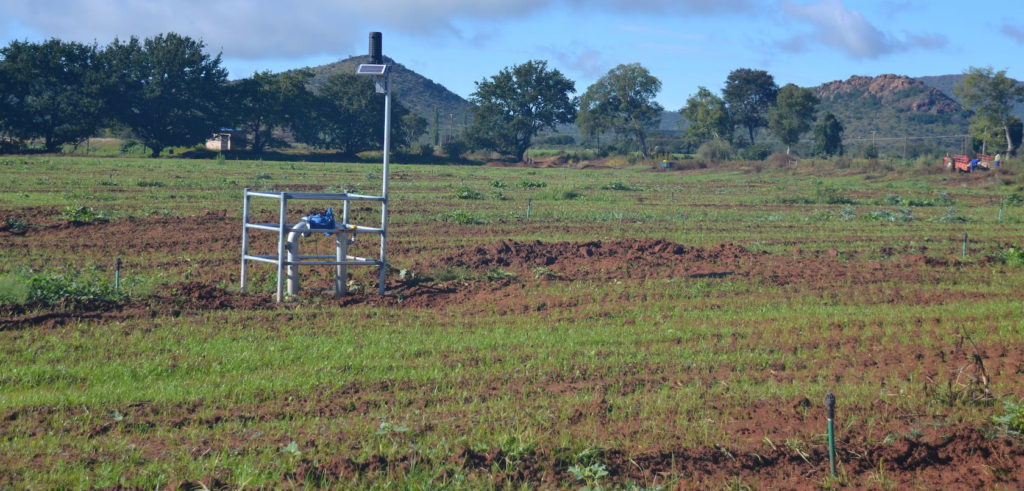 Orchard and Permaset Optimiser — Remote Pump and Valve Systems Management
Monitor and control pumps and valves remotely.
Remote Control > Open and close valves over a radio link
Manage > Feedback from valves
Control > Integration with pump operation (pump slows down during valve change over)
Control > Maintain a constant nozzle pressure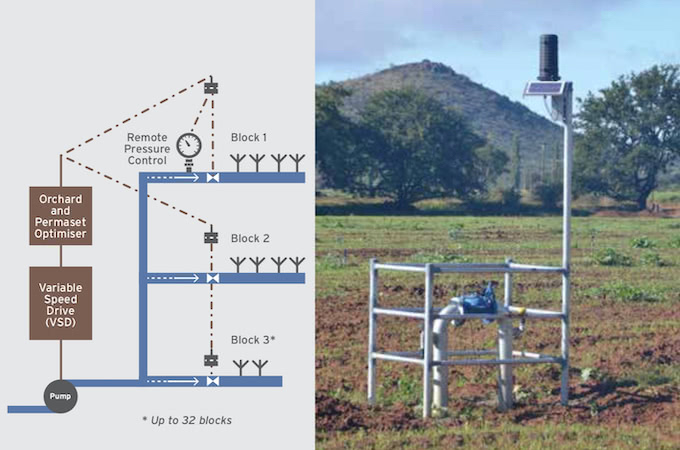 Automatic, remote pressure control for up to 32 irrigation blocks (per system) in your Orchard …
Effective management and control of irrigation water in fruit and nut orchards provides many benefits — higher quality yields = greater profits.
Fruit quality is clearly affected by irrigation. Drought-stressed fruit is normally smaller with a thicker peel. A greater peel : pulp ratio results in a lower juice content, a greater sugar content, a higher juice acidity and lower TSS: acid ratio. All these result in lower profit per hectare.
Irrigation has been effectively used to control the micro-climate within orchards – cooling it during heat spells and protecting the trees against frost damage. Irrigation has also been used to manipulate flowering.
Fertigation is commonly employed in orchards under micro-irrigation, especially in arid climates. Chemigation of herbicides and, to a lesser extent pesticides, is feasible when the delivery and control systems allow you to precisely control your irrigation systems.
---
Orchard and Permaset Optimiser — Precise, Wireless Remote, per Block Irrigation Pressure Control for Your Orchards.
The most common irrigation methods – gravity, sprinkler and micro-irrigation – are used for orchard irrigation. Various configurations of drip, micro-sprinklers and sprayers are gaining in popularity because they provide good control over your water application.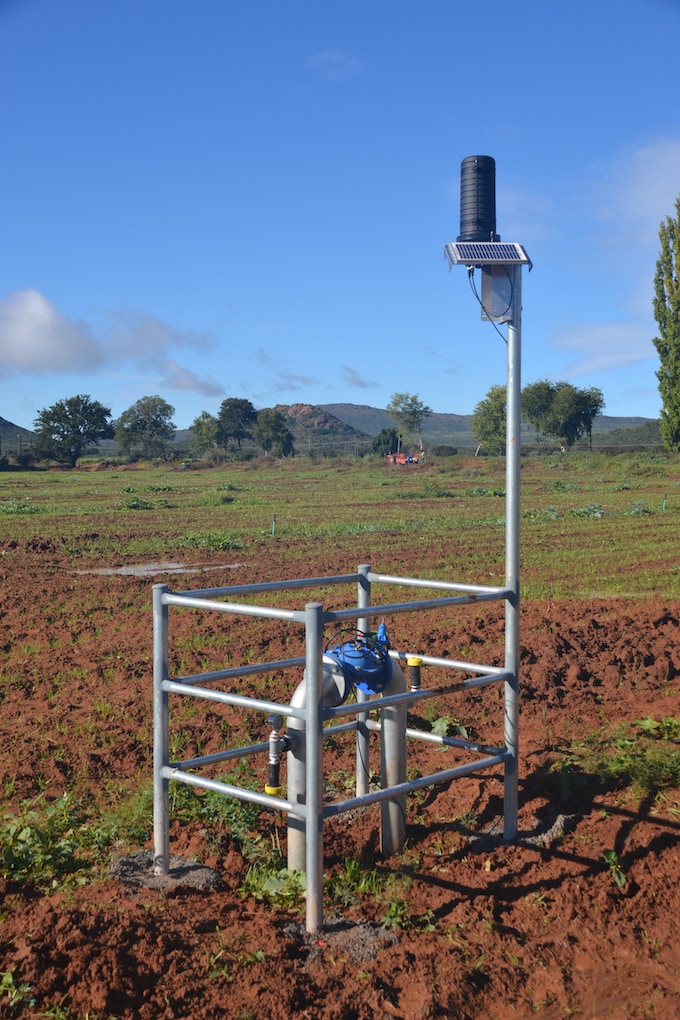 Imagine…
All the blocks in your orchard, each receiving the precise pressure required for your irrigation configuration in that block.
All the pumps in your pumping system, remotely programmed and managed to automatically pump at the optimal Energy tariff. All without any intervention from you or your staff.
Early warning…
Receive alerts when any of your block's pressure is out of range. When you combine the Orchard & Permaset Optimiser with the Reservoir Optimiser, you can also receive notifications when any of your reservoirs run low.
Time saving…
Real time view of your irrigation systems from your office or mobile improves your use of labour and saves you time.
Eliminates the need to employ staff to run between valves (or worse for you to have to do it during an exciting sports match).
24/7 monitoring…
Of your entire pumping and irrigation system from your smart phone or PC, from anywhere in the world by a system with an effective fail-safe wireless mesh networking mechanism.
Measure data over time…
The Shock Wave Engineering suite of Agricultural Optimiser products have the option of streaming important data about your systems to a database for report generation.
Talk to us about your pumping system…